The First Principle of Sacred Activism is to Get Authentic

Sacred Activism is intentionally creating on the inside what you are actively creating on outside. The first principle of sacred activism is to get authentic. You'll notice that the principle is get authentic rather than be authentic.
Being authentic is often interpreted as expressing your true thoughts and emotions. But that is a pop-culture version of authenticity that is both inaccurate and incomplete. It's true that those thoughts and emotions probably motivated you to activism, but operating from those thoughts and emotions in your inner (and outer) experience adds to chaos and division. Solutions that work in the long term require collaboration and unity.
As a lightworker (a person committed to practicing love and illumination over fear and division), it is critical that you get past your own inner division and into your deep truth—not the truth that makes you mad and inspires you to activism, but the truth of who you are at the deepest level of your being. That's the truth you are here to share! That's the truth that can change the world! Expressing that truth is what is actually inspiring you to action in the first place. The surface level chaos just gives you a focus and forward path.
Why Authenticity is the First Principle of Sacred Activism
Getting authentic means digging beneath the noise of inner thoughts and emotions, just
like meaningful change requires getting past the surface level chaos of "us vs. them." True and lasting change, both internal and external, requires healing division, both internal and external. The primary division you are healing is your own. Once you are actively practicing inner unity, the insight you receive form healing your inner divisions will guide you in the work of forging external collaboration by finding a meeting point in core principles.
Forging collaboration from agreement on unifying core principles is key because one of the most effective and insidious ways that the power structure maintains power is to turn people against one another so that they don't trust one another and remain rigidly divided on surface-level, hot-button issues (abortion, immigration, taxes, welfare, etc.) even though polls consistently show that people divided on both sides of an issue often hold similar core principles (personal freedom, compassion for those trying to create a better life, "fair share" policies, helping those who are marginalized, etc.)
Stoking the divisions is a tactic to keep people blindly following the power structure. This doesn't just happen in the outer world. This is part of the inner shadow as well. When you have a strongly held belief, especially if it is fortified with powerful emotions like anger, fears judgment (or feeling judged), etc., the tendency is to wall off anything that challenges that belief and the emotion beneath it. It divides you against yourself.
Your Authentic Truth transcends division and operates in a space of unity.  The need to heal your inner division and operate from inner unity is why getting authentic is the first principle of sacred activism. You can see the outer world success of this in the non-violent Civil Rights movements in the US & the non-violent Indian Independence movement lead by Mahatma Gandhi. These worked because they moved beyond the noise of division and tapped into common core principles of the populace. The also worked because the leaders operated from an internal orientation of unity and they inspired that orientation in others.
How to Get Authentic
Getting authentic is the practice of staying connected with your unified whole—which is also t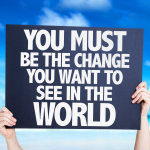 he state of being fully in the present moment and not operating out of past patterns, reactive emotion, etc. This is a natural state that we all have access to all of the time, it just gets eclipsed by the immediacy of thoughts and emotions and the hormones like cortisol and adrenaline they provoke. Staying in the present moment is core to the practice of sacred activism. Solutions are only found in the possibility of the present moment, rather than trying to "right the wrongs" of the past. Looking to the past for solutions tends to create lopsided outcomes that don't really change the underlying imbalance they are trying to resolve.
Follow these instructions to help get authentic so you can practice the first principle of sacred activism. Adding essential oils makes this process MUCH easier. There are more powerful oils to help this process, but I'm sharing some common oils that you might have (or can easily get) to use here.
Get Present
Put a drop of Melaleuca (tea tree) Essential Oil on your wrist creases and rub them together and inhale the aroma. This helps to break the ties of past emotions and connections and keep you in the present moment. Then get quiet and take some long slow deep breaths. These also help move you from the past into the present. Keep doing this until you feel your body relaxing, heart rate slowing and thoughts and emotions receding.
Connect to Your Large Circle Self
Rub a drop or two of Lavender Essential Oil on your heart area as well as a little on each temple, then inhale the aroma on your hands. Continue to take long, slow deep breaths and stay in the present moment. The peaceful state that Lavender helps bring you to is your Large Self, like a large circle that encompasses not just your body and mind but your authentic truth as well. This is the state of sacred activism and authenticity, where you can experience all sides of an issue from curiosity and compassion rather than "rightness" and division. Spend some time here so that it feels more and more you. With practice, lavender can help inspire this state instantly.
Tap into Joy & Experience All of You
Rub a drop of Peppermint Essential Oil on your heart area, as well as a little just below the hairline in the center of your forehead, then smell the aroma. This helps bring you to a buoyant and happy state where activism becomes joyful rather than stressful. In this state, imagine the issue that inspires you, but from the Large Circle you rather than the small circle of emotion and thought. This inner shift shows you how to stay connected with your original inspiration while simultaneously staying grounded in your unified state. Be careful to not go back into the small-circle emotional state in this process. Observing the emotions that inspired you to activism from the state of wholeness and unity can give you insight into your blind spots, foster compassion for those who hold a different view, re-connect you to common principles that can unite toward creating solutions, and provide insight into the shadow elements of your own psyche that you choose not to look at because they challenge your emotionally-held beliefs.
This state is a very rich state, and when you make cultivating this state your personal first principle of sacred activism, you will be amazed how your efforts begin to feed you instead of stress you, how relationships with the "opposition" can shift toward collaboration, and how you yourself begin to soften into the wholeness of the authentic you rather than in the inner conflict of division
Add Essential Oils to Your Sacred Activism—for Free!
Try these oils for free! If you want to add Essential Oils to your sacred activism, you can try these three for free by clicking the button below. Not all essential oils are created equally and the industry isn't well regulated, so worlds like "pure" and "organic" don't always mean what you think they do. I use the purest and most potent oils I have found and those are the samples I share with you. Click below to try them for free now!